Superior veneers – excellent workmanship
The Wravor band saw for wood veneer
The horizontal band saws from Wravor, are especially characterized by their performance for the production of veneers.
These kinds of horizontal saws were created and designed through years of engineering and practical testing with customers. In addition to the planning and installation of your system, VKM always provides you with valuable know-how as well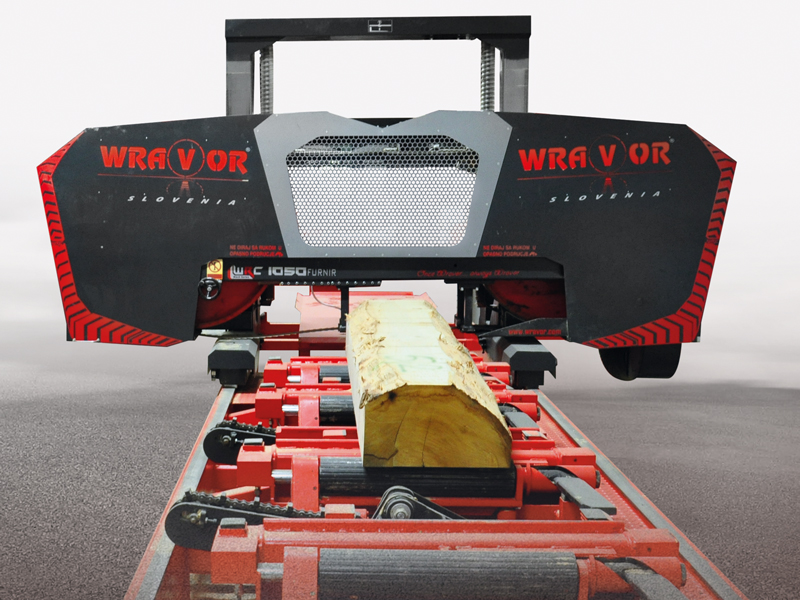 Premium wood veneers do not have to be a luxury product
This machine makes the production of high-quality veneer with simplicity.
Many of the integrated patents have full automation of the saw itself, such as automatic double-sided cutting of thin veneer at a tolerance of +/- 0.5 mm, automatic reading of measurements, and automatic shifting and removal of slats.
Also noteworthy are the grippers and the saw blade, which allow cutting in both directions, resulting in much higher cutting performance.
The machine also features a patented prismatic turner, an adjustable arm for boards and, if required, an optional loading ramp or automatic ramp and output conveyor with robotic manipulation.
An additional ventilator for sawdust on the machine ensures cleanliness and low cleaning effort.
The machine can be operated individually or together in a row with several saws – perfect for a smooth production flow.
VKM always offers you top advice and quick configuration on your own band saw for veneer.
Technical data:
| | |
| --- | --- |
| | WRC 1050 Veneer |
| | |
| Cutting performance up to slats/8h | 850 |
| Primer height | 850 |
| Primer width | 700 |
| Standard cutting length mm | 5000 |
| Drive motor saw kW variants | 45/55 |
| Lifting motor kW | 4 |
| Feed motor kW | 1,5 |
| Band saw blade width/thickness mm | PV35 on both sides |
| Control | Hydraulic |
Are you interested in a band saw for veneers?