Efficient, modular and powerful: CNC 5003
The 3-axis machining center for individual tasks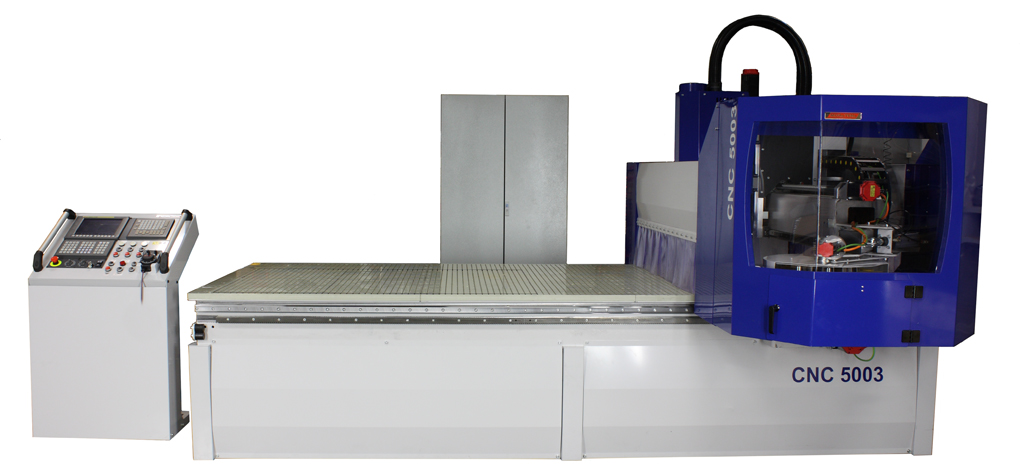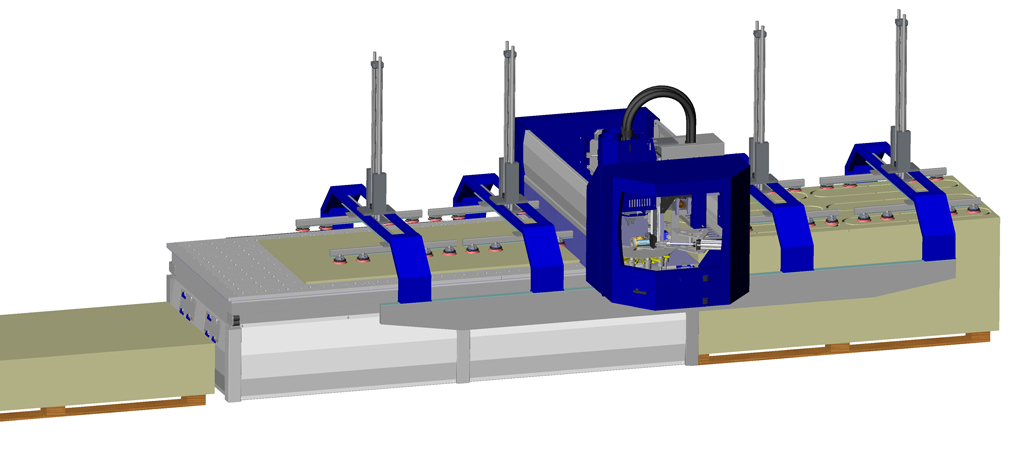 Modularity
The CNC 5003 3 axes machining center can perform cutting, drilling and milling operations in one. By using the software individual parts such as serial parts can be processed efficiently and cost-effectively. Due to the modularity of the CNC5003 and the extensive standard options, the machining center can be optimally adapted to customer requirements. The stable construction guarantees the highest accuracy and reproducibility of all components.
It is designed for universal use from single-part production to series production. The "Gantry" design (the gantry is driven on both sides in the x-direction) guarantees consistently high precision even at maximum traversing speeds.
Software and Hardware
The CNC5003 is programmed with standard G-code and complies with ISO 6983. This allows the most popular 2D/3D CAD and CAM software packages to be used with ease. Digital servo amplifiers ensure less vibration and thus more accuracy. In addition, the CNC machine has a built-in USB connector that allows connection to the Internet. This means that orders can also be placed and queried from any remote location.
Worktable for wooden panels
The working area offers individual designs between 2500/3080/5080/8000 mm (x-axis) x 1300/1540/2050 mm (y-axis) x 200/400/600 mm (z-axis). The vacuum table is divided into 8 sections, each section is controlled by its own valve. In each section, there are 8 vacuum cups, which ensure a firm hold during the working process. In addition, dedicated stop suckers ensure a more precise positioning of the workpiece. If you also combine the vacuum table with special suction pads, better edge processing is also ensured.
Milling spindle
A 6 kW motor with a tool changer is supplied as standard, providing for ISO30 and HSK63 tool holding. The spindle is driven by a frequency converter, which with the speed range of 300-18000 rpm (with the option of 300-24000 rpm) leaves nothing to be desired in terms of efficient working speed.
Special equipment on request
You have a choice when it comes to the drill head, the exact size, type and number of fixtures you want. With a multiple drilling head, for example, 2 to 9 holes can be drilled simultaneously. An angle head, in turn, can drill holes in the x- and y-directions despite the 3-axis.
Beyond all the equipment, the CNC 5003 machining center thus offers you maximum modularity with highly satisfactory, fully automatic use.
Technical data:
Field
| | | | | |
| --- | --- | --- | --- | --- |
| x-axis | 2500mm | 3080mm | 5080mm | 8000mm |
| y-axis | 1300mm | 1540mm | 2050mm | |
| z-axis | 200mm | 400mm | 600mm | |
Travel speeds
x-axis 60m/min
y-axis 20m/min
z-axis 15m/min
You are interested in a CNC 5003 machine?